Past Recipients
Roberto Tondopó
2018-2019
Roberto studied photography at the Contemporary Photography Seminar, by Centro de la Imagen. Currently he is pursuing a master's degree in Visual Arts in the postgraduate program of Arts and Design at the National Autonomous University of Mexico (UNAM).
Tondopó has received grants and prizes including the prestigious Grant Young Creators (in 2011 and 2009) and the National System of Art Creators of his country (2014-2017). He was also shortlisted for the Taylor Wessing Photographic Portrait Prize in London (2011). He was chosen for the 2013 Photoquai Biennial to represent Mexico. He received Honorable Mention in the Grant FotoVisura (2014), was a finalist for the Roberto Villagraz award (2012) in Spain, and won the Tierney Fellowship in NY (2011). He was also a finalist in the Magnum Foundation Emergency Fund Grant (2016).
Tondopó received the Robert Giard Foundation Fellowship (2018). He has been featured in various exhibitions worldwide.
His book Casita de Turrón was published by La Fábrica in 2015. Roberto Tondopó's work is part of the Collection of Bank of America, Televisa Foundation, and the Centro de la Imagen, among other public and private collections.
P.J. Raval
2017-2018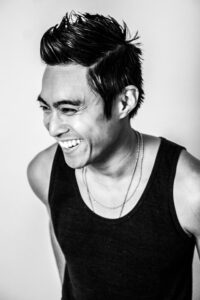 P.J. Raval was awarded the fellowship for his "Untitled Jennifer Laude Documentary." In this film, grassroots activists in the Philippines are spurred into action when a local transgender woman is found dead in a motel room with a 19-year-old U.S. marine as the leading suspect. As they demand answers and a just trial, hidden histories of U.S. colonization come bubbling to the surface.
"This award will be instrumental in telling Jennifer's story and educating the world to the unique, progressive, and long history of LGBTQ culture in the Philippines. As a queer, Filipino American growing up in the United States, where my history and identity have remained largely invisible, I was aware of the devastating lack of knowledge about my homeland and its colonization by the U.S. Relegated to the footnotes and margins of the history books, the Philippines has been intentionally overlooked and vastly misunderstood. In making this film, I seek to not only uncover these truths, but also to further my own knowledge of my cultural heritage. I am truly thankful for the support of the Robert Giard Foundation in supporting me on this artistic and personal journey."
Leonard Suryajaya
2016 – 2017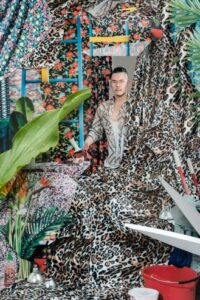 Leonard Suryajaya is the 2016 – 2017 Robert Giard Fellow for his multimedia project Other Mother.
Suryajaya's work explores intricate and complicated layers of selfhood in the context of cultural background, intimacy, sexual preference, and personal displacement. Prompted by his upbringing as a second-generation Chinese Indonesian raised by a Muslim woman, Suryajaya's mixed media project examines expressions of allegiance in a globalized world.
"Earlier this year, queer people in my home country of Indonesia saw increasing public hostility and parliamentary attacks on their rights. Condemnation and oppression of LGBTQ identities and expressions are out in full force. In light of these challenges, the Robert Giard Foundation Fellowship couldn't come in a better time for me and for my work. I am honored, energized, and motivated by being named a Fellow for the 2016-2017 cycle. The support from the Foundation helps guide and support my practice and encourages me to work hard and to overcome my disappointments and fears. If I can't be queer in my home country, then my work abroad will be an even more defiant testament to alternative ways of being."
Juan Carlos Zaldívar
2015 – 2016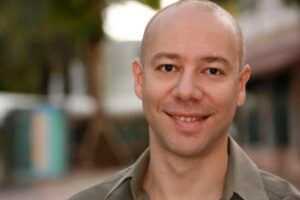 Juan Carlos Zaldívar receives the Robert Giard Fellowship grant of $7,500 for his film project: ALTERATIONS. ALTERATIONS, follows J, a young trans person, as she sets out to reconnect with her estranged mother for the first time as a woman.  Months prior, when Jesus told his bi-polar mother, Mary Jane, that he was going to transition into a woman, his mother had a heart attack. When Mary Jane came to, she did not remember her identity and now believes that she is someone else. ALTERATIONS, chronicles a magical weekend escapade where the two women meet as their new selves. When they challenge each other to face their worst fears, a new friendship blossoms that is independent from their blood ties.
ALTERATIONS will use special technology, which allows for the video to contain 'hot spots' when viewed on the Web.  Users will be able to mouse-over the video as it plays on the Web to discover and access other elements of the story as well as additional, related experiences.
Cuban-born, Zaldívar lives and works in the United States. He completed both his BFA and a Masters of Fine Arts at New York University's Tisch School of the Arts, where he has also taught as an adjunct faculty. He has also taught as full-time faculty at Miami International University's Institute of Art and Design.
Zaldívar started his film career as a sound editor and designer, his work can be heard in Academy Nominated films such as Ang Lee's "Sense and Sensibility;" "On the ropes" and on HBO's America Undercover, for which he garnered an Emmy nomination.
His film and video art works have screened at many festivals worldwide and broadcast on PBS, ABC, IFC, Showtime and WE. He is the recipient of numerous grants and awards. His directing credits include "90 Miles" (PBS), "The Story of the Red Rose" (Showtime), "Palingenesis" and "Soldiers Pay" (IFC), co-directed with David O. Russell (Three Kings, The Fighter) and Tricia Regan (Autism, the musical).
He has served as a Juror for several mayor film festivals including the Sundance International Film Festival. He is a Sundance Film Institute alumnus. He has recently co-founded the Miami Filmmakers Collective with a generous grant from the John S. and James L. Knight Foundation Art Challenge grant and a matching grant from the Dade Countty Department of Cultural Affairs.
"Receiving a Robert Giard Fellowship will enable us to finish our short film, ALTERATIONS. In particular, the award will help us to complete the especial effects, the music and the color correction. It will also allow us to begin to enter the film in festivals and to build the principal web interactions in time for a summer premier. More importantly, however, because this first award comes directly from our LGBTI community and supporters, it validates our efforts and we hope that it will open the door to ambassadors and long-term partners. Our project is ambitious and it is an experiment in the —still mostly uncharted—grounds of interactive story-telling; a new space that thus far has not engaged our LGBTI community in general. Thank you for your support."
Ka-Man Tse
2014 – 2015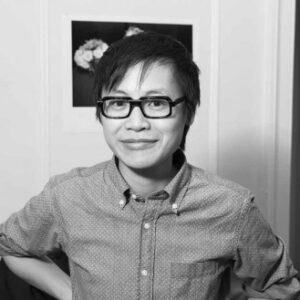 Ka-Man Tse receives the Robert Giard Fellowship grant of $7,500 for her project: Portraits and Narratives of LGBTQ Asians and Asian-Americans in the U.S. and Hong Kong. The funds will allow her to travel to her native Hong Kong to continue her photographic project there.
Ms. Tse described this project as part of her life-long investigation of community and human agency. Collaborating with her subjects in public spaces, she captures moments observed and imagined, choreographed and improvised, personal and public. She said, "Visibility, representation and community are driving forces in my artwork. Mixing queer narratives, personal memories and obsessions, storytelling and portraiture, I recast these elements in order to recast the world. It is important that the narratives unfold in public spaces, for visibility—as well as for that tension of occupying the landscape and sharing these stories with a world and a public."
Ka-Man Tse is a New York based photographer and video artist. She received an MFA from Yale School of Art in 2009, and a BA from Bard College in 2003. She has exhibited at the Museum of Chinese in America in New York, NY, The Bronx Museum of Arts, Cornell University, Capricious, the Philadelphia Photo Arts Center, Gallery 339 in Philadelphia, and the Eighth Veil in Los Angeles. Recently she was a SPARC Artist-in-Residence through the New York City Department of Cultural Affairs. Ms. Tse was appointed lecturer in photography at Yale in 2013.
Carmen Oquendo-Villar
2013 – 2014
Ms. Oquendo-Villar receives The Robert Giard Fellowship grant of $7,500 for her documentary film Diana de Santa Fe, to allow her to prepare for the principal photography stage of her project, enabling her to recruit a film crew with experience shooting quality footage in precarious situations such as conflict/war zones.
Ms. Oquendo-Villar's documentary, Diana de Santa Fe, follows Diana Navarro, a transgender sex worker in Colombia, working in Santa Fe, a barrio close to Bogota's financial district. Santa Fe was declared a 'tolerance zone' in 2002 by the city government where sex work is tolerated.  The film examines Diana's daily life as a sex worker in a violence-ridden neighborhood of Bogota with its own rules and laws. Instead of just fending for herself, Diana has instead reached out to the other sex workers in need, in effect becoming a leader and caregiver in her community, and abandoning sex work as her primary source of income. The film will follow the process though which Diana transforms her home in Santa Fe into a center for battered and injured sex workers.
On receiving the fellowship Ms. Oquendo-Villar said, "It is a great honor to be selected this year's Robert Giard Fellow. Like Mr. Giard, who came later in life to photography, my journey to becoming a filmmaker also comes later in my life. Because of this, I feel an urgency to my work and telling stories rarely told—stories I believe Mr. Giard would also feel are extremely important.  I am drawn to dramatize these stories in a humane, yet complex, manner. Over the past 8 years, I have explored race, gender, and sexuality through documentary portraits of the Latino transgender community (Boquita, Mizery, The Needle and Camil). Now, I have embarked on telling the story of an entire neighborhood, Santa Fe, having Diana Navarro, a transgender, Afro-Colombian sex worker and advocate, as its guiding figure. With the support of the John Simon Guggenheim Memorial Foundation, the Fulbright and Encuentros Cartagena (Festival Internacional de Cartagena de Indias), I have been able to complete the research stage and shoot preliminary footage."
Carl Sylvestre, President of The Robert Giard Foundation, said "Carmen Oquendo-Villar's projects are as bold as they are creative.  She allows us to spend time with marginalized individuals whose stories are seldom told.  This latest project promises to result in a daring film, and we are pleased to support its completion with the largest fellowship devoted to art centered on sexuality, gender, and issues of LGBTQ experience."
Cary Cronenwett
2012-2013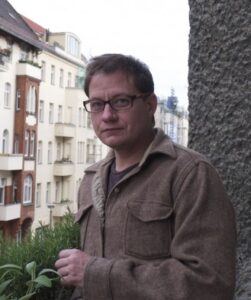 Cary Treadwell Cronenwett received the 2009 Bay Area Guardian Goldie Award for Local Discovery after the release of his film, Maggots and Men (55min). His first short film,Phineas Slipped (2002) played extensively in the international LGBT film festival circuit. Currently, he is pursuing an MFA in the Film/Video program at CalArts in Los Angeles, but is on exchange at Universität der Künst in Berlin. He is in post-production on a documentary/ fiction hybrid set in Haiti, which is loosely based on the novel, Kathy Goes to Haiti, by Kathy Acker.
"I am continuing to revise the narration for Go with Flo and at the same time, solidifying the narrative structure. The piece is still very rough. I plan to begin working with an editor on the project in the very new future."
"Born and raised in Oklahoma, I have spent my adult life on the west coast. I came to filmmaking with a background in organizing both as a political activist and as a musician involved in a DIY/punk scene, and I bring a similar ethos onto the set to create a collaborative, process based approach to film making. As a queer, transgender filmmaker, I am interested in pushing boundaries, creating cultural spaces, and I see my art practice as a counterpart to activism for social change."
"The Giard Foundation grant is going to enable me to finish this project. It is such a huge honor to receive this grant. Specifically, the grant will enable me to hire an editor. Because this project is so emotional for me, I believe that bringing on another editor to work with on the project is absolutely essential. It is impossible for me to have any emotional distance from the project. Editing so far has been really difficult and slow moving. Another editor won't have the same relationship to the material and will be able to work more efficiently, and I feel like it's time to get this thing done."
—Cary Cronenwett
Yoruba Richen
2011-2012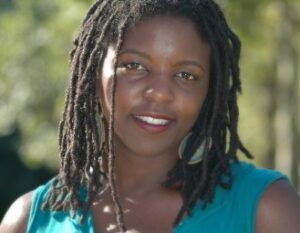 "It is a great honor for me to receive this fellowship.  I'm so excited that the Giard Foundation has given me funding enabling me to work on this film which deals with civil rights issues that are being so hotly debated right now. And it is gratifying to know that the Foundation recognizes the importance of cultivating greater diversity in the voices on LGBT issues, particularly in this time of cutting public funding for the arts."
– Yoruba Richen
The New Black, a documentary about how the African American Christian church is grappling with gay rights issues in light of the gay rights movement and the fight over marriage equality.  It aired on PBS in June 2014.  After receiving the Robert Giard Fellowship, Yoruba Richen was awarded support from the Ford Foundation, Jerome Foundation, the Sundance Documentary Fund, the 2012 Creative Promise Award at the Tribeca Film Festival, and a Guggenheim Fellowship.
http://www.newblackfilm.com/
Molly Landreth and Amelia Tovey
2010-2011
The American-Australian team of Landreth and Tovey won for their project Embodiment:  A Portrait of Queer Life in America, a photographic and video-based survey of the American GLBTQ community.
Embodiment profiles individuals from urban and rural areas across America.  Its stories are told though large-format color portraits and engaging 8-minute "video portraits" comprised of interviews, performance, and story telling by each participant, culminating in a multi-media, multi-platform interactive website, an Internet archive of queer life today with a glimpse of what may be in store tomorrow.
Sonali Gulati
2009-2010
Sonali Gulati was awarded a fellowship to complete a short personal and revealing documentary film, I am, a portrait of four different families in South Asia dealing with having a gay or lesbian child. Ms. Gulati writes:
In India, the second most populated country in the world with over one billion people, the subject of homosexuality remains ignored, silenced, and even invisible … a "homosexual relationship" is considered a criminal offence, [legally] punishable by up to ten years of imprisonment … As a filmmaker, my personal narrative of leading a closeted life while growing up in India and my inability to come out to my mother serves as the primary structural framework to weave together stories of four individual families. With courage, determination, and humor, these families share untold stories … As one parent says in the film, "If parents stand up and support and accept their gay children, then no one can say anything, no one."
You can learn more about the film here.
The three finalists for the 2009-2010 Fellowship
2009-2010
Angela Jimenez, for her photography project, womyn's land, that grows out of six years of photojournalism on the Michigan Womyn's Music Festival. Zanele Muholi, for her photographic memory art project, Ukukhumbula (a Zulu word meaning "to remember"), which aims to commemorate and preserve the life and histories of black lesbians in South Africa and beyond. Madeleine Olnek, for her short film, Neurosis is a Pre-Emptive Behavior, part of an ongoing project of shorts that look at lesbians and gays in therapy.