Juan Carlos Zaldívar
2015 – 2016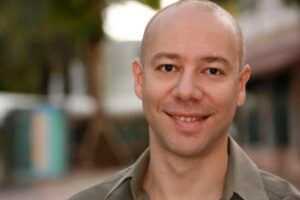 Juan Carlos Zaldívar receives the Robert Giard Fellowship grant of $7,500 for his film project: ALTERATIONS. ALTERATIONS, follows J, a young trans person, as she sets out to reconnect with her estranged mother for the first time as a woman.  Months prior, when Jesus told his bi-polar mother, Mary Jane, that he was going to transition into a woman, his mother had a heart attack. When Mary Jane came to, she did not remember her identity and now believes that she is someone else. ALTERATIONS, chronicles a magical weekend escapade where the two women meet as their new selves. When they challenge each other to face their worst fears, a new friendship blossoms that is independent from their blood ties.
ALTERATIONS will use special technology, which allows for the video to contain 'hot spots' when viewed on the Web.  Users will be able to mouse-over the video as it plays on the Web to discover and access other elements of the story as well as additional, related experiences.
Cuban-born, Zaldívar lives and works in the United States. He completed both his BFA and a Masters of Fine Arts at New York University's Tisch School of the Arts, where he has also taught as an adjunct faculty. He has also taught as full-time faculty at Miami International University's Institute of Art and Design.
Zaldívar started his film career as a sound editor and designer, his work can be heard in Academy Nominated films such as Ang Lee's "Sense and Sensibility;" "On the ropes" and on HBO's America Undercover, for which he garnered an Emmy nomination.
His film and video art works have screened at many festivals worldwide and broadcast on PBS, ABC, IFC, Showtime and WE. He is the recipient of numerous grants and awards. His directing credits include "90 Miles" (PBS), "The Story of the Red Rose" (Showtime), "Palingenesis" and "Soldiers Pay" (IFC), co-directed with David O. Russell (Three Kings, The Fighter) and Tricia Regan (Autism, the musical).
He has served as a Juror for several mayor film festivals including the Sundance International Film Festival. He is a Sundance Film Institute alumnus. He has recently co-founded the Miami Filmmakers Collective with a generous grant from the John S. and James L. Knight Foundation Art Challenge grant and a matching grant from the Dade Countty Department of Cultural Affairs.
"Receiving a Robert Giard Fellowship will enable us to finish our short film, ALTERATIONS. In particular, the award will help us to complete the especial effects, the music and the color correction. It will also allow us to begin to enter the film in festivals and to build the principal web interactions in time for a summer premier. More importantly, however, because this first award comes directly from our LGBTI community and supporters, it validates our efforts and we hope that it will open the door to ambassadors and long-term partners. Our project is ambitious and it is an experiment in the —still mostly uncharted—grounds of interactive story-telling; a new space that thus far has not engaged our LGBTI community in general. Thank you for your support."