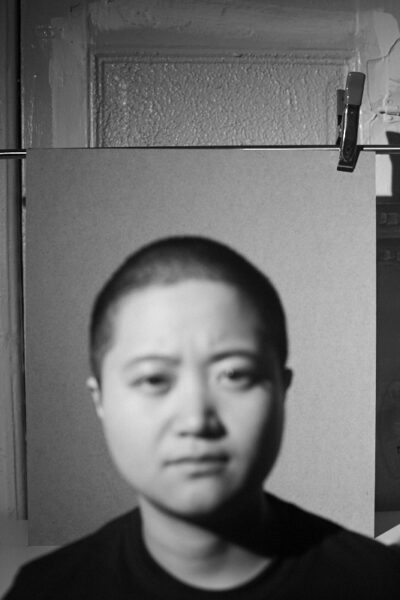 Chen Xiangyun
2022 Giard Grant Winner
Chen Xiangyun is a Chinese lesbian photographer living in Brooklyn, New York. Her art practice employs bookmaking, analog film and photographs. Her work is rooted in her sexuality and Chinese upbringing. Chen has shown her work both nationally and internationally, including the Pingyao International Photography Festival in China, Baxter Street Camera Club of New York, Anthology Film Archives as well as Experimental Film Fest.
Chen's grant will support the further development of her series of intimate images portraying first- or second-generation immigrants who are people of color across the US. As a Chinese lesbian immigrant and photographic storyteller, Chen centers authentic visual representations of queer intimacy and vulnerability within POC communities. Her ongoing project depicts people of diverse ethnicities, identities, and regions, charting the emotional richness of queer life.
Camilo Godoy
2022 Giard Grant Runner-Up
Camilo Godoy is an artist and educator born in Bogotá and based in New York. He has participated in residencies at Movement Research, International Studio & Curatorial Program (ISCP), coleção moraes-barbosa, Recess, and New Dance Alliance. Godoy's work has been exhibited at the Brooklyn Museum, Leslie-Lohman Museum, CUE, OCDChinatown, PROXYCO Gallery, New York; Moody Center, Houston; UNSW Galleries, Sydney; and Centro de Arte Contemporáneo, Quito. He has performed at Danspace Project, Movement Research at the Judson Church, Center for Performance Research, New York; Toronto Biennial; and Künstlerhaus Mousonturm, Frankfurt.
Godoy's long-term project AMIGXS is a series of intimate photographs of friends and lovers engaged in acts of love and lust, exploring the shifting relationship among zines, published photographs, and billboards, inspired by the queer photographic and publishing legacy of the 20th century.  Godoy's grant will support the development and publication of a photobook of AMIGXS.
2022 Giard Grant Finalists