Annie Flanagan
2020 Giard Grant Winner
Annie Flanagan (b. 1986) is a photographer whose work is rooted in the documentary framework and focuses on gender, sexuality, trauma particularly in rural North America. In 2018, they received a Master of Science from Syracuse University's S.I. Newhouse School of Public Communication.
Flanagan has contributed to publications including The New York Times, The Players' Tribune, Smithsonian Magazine, The Washington Post, ESPN, FOAM Magazine and Mother Jones. They grew up in Washington, D.C. and currently split their time between New Orleans and Vermont.
Annie Flanagan's grant will support the development of a project which combines their experience as a professional photographer covering news stories in rural America and their lived experience as a queer person and artist exploring rural communities. Flanagan asks us to consider "What do we stow away while being so focused on documenting the lives of others?"
Clifford Prince King
2020 Giard Grant Runner-Up
Clifford Prince King (b. 1993) is a photographer based in Los Angeles, CA. As an artist who did not attend college or formally study the medium, his imagery is uniquely his own. After graduating high school, King began documenting his intimate relationships, which has since evolved into a way to challenge, explore, and negotiate concepts of black gay sexuality, masculinity, and community.
In the last two years, King has photographed for Out Magazine, Gay Times Magazine, and has worked with designers Come Tees, Phlemuns and No Sesso. In 2019, King had his first solo exhibition in Los Angeles at New Image Gallery and produced a short film for Notes on Intimacy, a group show curated by Alima Lee at Shoot the Lobster Gallery.
Clifford Prince King's grant will support the development of his work celebrating gay black male domestic life. King documents black men at home, celebrating black queer men in a familiar, yet unseen, perspective through intimate scenes.
Finalists
Phyllis Christopher, Finalist
Phyllis Christopher is an American photojournalist living and working in Newcastle, England.  She has photographed a wide variety of subjects but her main focus and passion — what she considers her life's work — has been to document the lesbian community. Although she has worked as a photographer for over 25 years, she considers her lesbian erotic work as emerging because it has not been archived or published as an accessible book, and until recently this work has had no audience outside of the community that it documents. The dissemination of lesbian erotic imagery is a monumental challenge. Yet, over the past few years this material has become a focus of interest for academics and the art world. She has recently found a publisher who understand the political nature of this work, and her book Heart, Hand, Art: Erotic Moments from a Sexual Revolution, documenting lesbian art, activism and pleasure in 1990's San Francisco will be published by Book Works in March of 2021.
J Houston, Finalist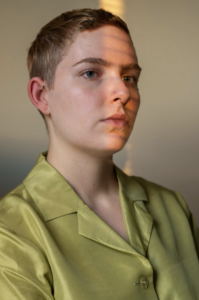 J Houston was born in Kalamazoo, Michigan and graduated from Carnegie Mellon University with a focus in art and gender theory. Most recently, they were an artist-in-residence at Otis College of Art and Design, The Growlery, and Vermont Studio Center, and J has received grants from Frank-Ratchye STUDIO for Creative Inquiry, Greater Pittsburgh Arts Council, and Carnegie Mellon University. Their photo work on Pittsburgh's queer community has been a finalist for the Duke CDS Essay Prize and Silver Eye Center for Photography fellowship program, and their work has been shown at Houston Center for Photography, Turner Contemporary, Aviary Gallery, Amos Eno Gallery, Contact Gallery, Miller Institute of Contemporary Art, and New York Photo Festival. This winter, J's work will be featured in a solo exhibition at Siena Heights University.
Jessica Martinez, Finalist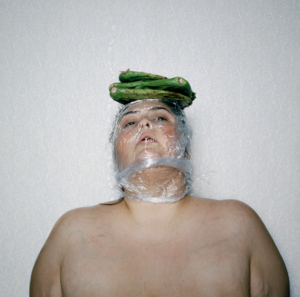 Jessica Magallanes Martinez is a visual artist and educator currently living and working in Harlem. She holds a BFA from Syracuse University, and an MFA from Columbia University. Jessica was born and raised in South Central Los Angeles. Her photographic practice engages, dismantles, and renegotiates constructions of race, religion, and gender.
Nelson Morales, Finalist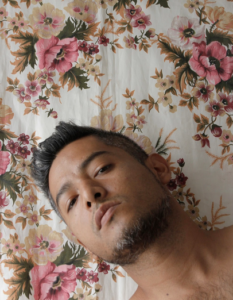 Nelson Morales is from Unión Hidalgo, Oaxaca. He studied communication sciences. For nearly ten years he has devoted himself entirely to photography. Morales' work focuses mainly on sexual diversity and identity. He has studied at different workshops and programs specialized in contemporary photography in Mexico, and has held several individual and collective exhibitions in Mexico and in countries such as Spain, Malaysia, Colombia, Germany, India, Brasil, Portugal, the United States, Greece, Costa Rica, Argentina, and the Netherlands. Morales has obtained several awards in Mexico and abroad, and his work is held in public and private collections. In 2018 he published his first book, Musas Muxe, followed by Fantastic Woman in 2019. Nelson Morales is currently teaching photography workshops and developing his personal projects focused on sexual diversity in America.
Bryson Rand, Finalist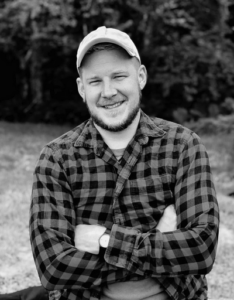 Bryson was born in Phoenix, AZ in 1982 as the son of an Air Force pilot, and grew up living around the world. In 2019 Bryson attended the Skowhegan School of Painting and Sculpture, has an MFA from Yale School of Art, a Masters in Art Education from the School of Visual Arts, and a BFA from University of Colorado. Bryson's first solo exhibition, "Some Small Fever", was held at La MaMa Galleria (NYC) in 2017. He has shown extensively in group exhibitions in New York City, Los Angeles, San Francisco, New Haven, Mexico City, and Berlin. He published three books in 2017-18, "Some Small Fever", "The Origins of Color", and "Waters". His work has been included in many publications, including Der Grief, Dear Dave, Matte Magazine, VICE, and NEWSPAPER and was featured on ArtForum.com. Bryson lives and works in Brooklyn with his husband, Ryan.