Applications for the 2022 Giard Grant Now Open
Applications to the 2022 Robert Giard Grant for Emerging LGBTQ+ Photographers are now open.
The Giard Grant supports the creation of work by artists whose projects address issues of sexuality, gender, or LGBTQ+ identity. This international grant, in collaboration with Queer|Art, provides an award of $10,000 for the winner, and $5,000 for the runner-up, to support the creation of new work by LGBTQ+ photographers. Named in honor of photographer Robert Giard (1939-2002), a portrait, landscape, and figure photographer whose work focused on LGBTQ+ lives and issues, the grant focuses on supporting emerging LGBTQ+ photographers who document, depict, and interrogate past and present LGBTQ+ cultures.
The Robert Giard Grant for Emerging LGBTQ+ Photographers is made possible entirely through support provided by The Robert Giard Foundation. Funds can be requested to support new or ongoing work at any stage of development.
Applications open November 17, 2021, and close January 24, 2022. Prospective applicants should review application requirements and apply directly through the Queer|Art website.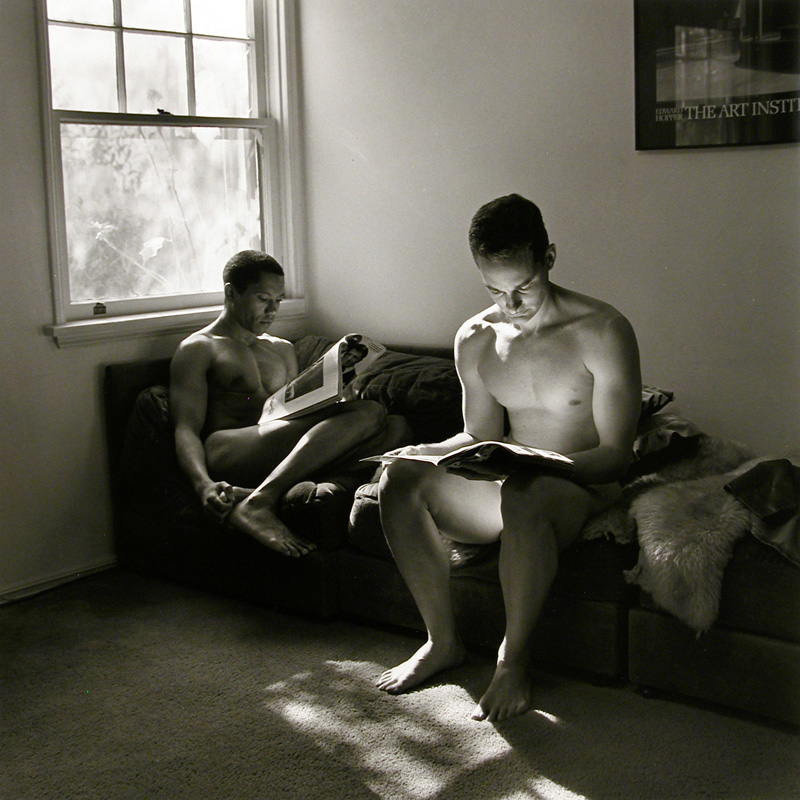 Robert Giard, Sunday Morning, 1989
2022 Giard Grant Judges
Image credits from left to right: Jacqueline Francis, image by Sana Javeri Kadri; Naima Green, image by Rowan Renee; Sunil Gupta, image by Charan Singh;  Lorena Molina, image courtesy of artist; Jennie Ricketts, image courtesy of artist.
Jacqueline Francis is an art historian, curator, and occasional artist. She is the author of Making Race: Modernism and "Racial Art" in America (2012) and co-editor of Romare Bearden: American Modernist (2011). She is co-Executive Editor of Panorama: Journal of the Association of Historians of American Art and a co-founder of the Association for Critical Race Art History. Her curatorial projects include "side by side|in the world" (2019, San Francisco Art Commission). A member of the Three Point Nine Art Collective, she exhibited the video RUN in the group's exhibition at Toronto's Museum of Contemporary Art in June 2021.
Naima Green is an artist, photographer, and educator from New York. Her practice is an invitation to participate, observe, and consider safety, utopia, and intimacy. Her work has been featured in numerous exhibitions, including at Fotografiska New York, Smart Museum of Art, MASS MoCA, International Center of Photography, Houston Center for Photography, Bronx Museum, BRIC, Gallery 102, Gracie Mansion Conservancy, the Studio Museum in Harlem, Arsenal Gallery, amongst others. Her works are in the collections of Barnard College Library, Decker Library at MICA, Fleet Library at RISD, ICP Library, Leslie-Lohman Museum, MoMA Library, Museum of Fine Arts, Houston: Hirsch Library, National Gallery of Art, Olin Library, Cornell University, Smart Museum of Art, and Teachers College, Columbia University.
Sunil Gupta (b. New Delhi 1953) MA (RCA) PhD (Westminster) lives in London and has been involved with independent photography as a critical practice for many years focusing on race, migration and queer issues. A retrospective was shown at The Photographers' Gallery, London (2020/21) and will move to Ryerson Image Center, Toronto 2022. He is a Professorial Fellow at UCA, Farnham. His latest book is "London 1982" Stanley Barker 2021 and his current exhibitions include; "The New Pre-Raphaelites" the the Holburne Museum, Bath. His work is in many public collections including; Tokyo Museum of Photography, Philadelphia Museum of Art, Royal Ontario Museum, Tate and the Museum of Modern Art. His work is represented by Hales Gallery (New York, London), Stephen Bulger Gallery (Toronto) and Vadehra Art Gallery (New Delhi).
Lorena Molina is a Salvadoran multidisciplinary artist and educator. She is an Assistant Professor of Art at the University of Cincinnati. Through the use of photography, video, performance and installation, she explores identity, intimacy, pain, and how we witness the pain of others. She received her Master of Fine Art degree from the University of Minnesota in 2015 and her Bachelor of Fine Art from California State University, Fullerton, in 2012. She is part of the upcoming traveling exhibition, The Regional at the Contemporary Art Center Cincinnati, and Kemper Contemporary Art Museum.
Jennie Ricketts is an independent photography editor, curator, consultant and mentor. For 17 of those years she was a picture researcher and then picture editor at The Observer Magazine, commissioning and editing photography which attracted international recognition and widespread publication. She launched the Jennie Ricketts Gallery in Brighton in 2006 while writing and lecturing and now operates from County Wicklow, Ireland as an online space representing international photographers. She is currently a Trustee for Autograph ABP, The Martin Parr Foundation and a member of the Advisory Board for PhotoIreland, Dublin.